Highway signs to honor fallen USP officer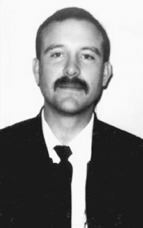 Almost 15 years ago, Correctional Officer Scott Williams, a 29-year-old Marine veteran and father of two young girls, was stabbed to death by an inmate at the Lompoc Federal Penitentiary.
His family, friends and legions of his coworkers have never forgotten the young man and his loss, and have labored through the years to offer fitting tributes to his life.
Now, a segment of State Route 1 between Vandenberg Air Force Base and the turnoff to the Lompoc penitentiary at Santa Lucia Canyon Road will soon bear the designation "Federal Correctional Officer Scott Williams Memorial Highway."
The designation comes by the way of a state Senate resolution carried by Sen. Tony Strickland, R-Thousand Oaks, and Assemblyman Katcho Achadjian, R-San Luis Obispo, and was heavily supported by a number of peace officer organizations.
"We can only hope that this small tribute to Officer Williams and his family serves as a reminder of his sacrifice and that the safety of all our law enforcement officers is a matter of statewide and national concern," the resolution states.
Officer Williams, who served in Operation Desert Storm and was once named "Marine of the Year," was married to his Lompoc High School sweetheart, Kristy, and was the father of 6-year-old Kaitlin and 11-month-old Kallee. The family lived in Los Alamos.
"Officer Williams was taken from his family far too soon and this bill is a way to honor and remember the contributions he made to our country and our community," Mr. Strickland said on the floor of the state Senate. "His passing is a tragic reminder that law enforcement officers serve the public and risk their lives for us on a daily basis and I can only hope this small tribute to Officer Williams serves as a reminder of his sacrifice to our community."
Barry Fredieu, president of Local 3048 of the American Federation of Government Employees at the penitentiary, worked with Officer Williams and has sought recognition for his colleague through the years, including helping build a memorial park to Officer Williams near the penitentiary staff housing.
On Tuesday, knowing Sen. Strickland's bill had just been passed into law, Mr. Fredieu retired after almost 25 years with the federal penitentiary system.
The knowledge that the highway designation was coming, he said, was the best retirement present he could imagine.
"For me, it's really a lasting tribute for Scott and his family, that's the way I look at it," said Mr. Fredieu. "We built the park (on penitentiary property) but people have to come in to see the park, as opposed to this highway, which is forever. The staff is going to see it, the local community is going to drive by it. Thousands of people are driving this highway each and every day. That's a more visible tribute."
The officer's widow, Mr. Fredieu said, would ideally like to see the sign dedication for the highway next April, on the 15th anniversary of Officer Williams' death. As required by law, the two highway signs were paid for with donations, including from the local union, the California Correctional Peace Officers Association and the national peace officers' council.
"It seemed like the right thing to do," said Ryan Sherman, spokesman for the CCPOA, who helped navigate the resolution through the legislature. "It was a way to honor Scott and his memory, instead of letting things disappear."
It was especially fitting, he said, because of the recent decision involving the inmate caught on surveillance tape killing Officer Williams. Inmate Roy C. Green, who had strapped two homemade knives to his arms, stabbed Officer Williams in the neck, and seriously injured another officer by stabbing him in the chest. Three other officers, coming to the aid of the fallen men, were slightly injured.
Mr. Green, also known as Haneef Bilal, was charged with one count of murder within the jurisdiction of the United States, one count of murder of a correctional officer, three counts of assault with intent to murder and one count of assault with a dangerous weapon with intent to do bodily harm.
For most of the years since the officer's death, Mr. Green, who has pleaded innocent, has been confined at a federal medical referral center in North Carolina. Defense attorneys have said that Mr. Green has an IQ bordering on mental retardation.
Recently, Mr. Green was civilly committed and will remain in Bureau of Prisons custody for the remainder of his life.
"When they finally got the news that he (Green) was certified into the civil commitment program, and that there's not going to be a trial, he's not going to be convicted, this (the road) was a way to honor Scott and his memory, instead of letting things disappear," Mr. Sherman explained. "Now that there was finality to the legal portion of it, we're stepping up and doing a little bit to recognize his sacrifice."
CPL Western Regional Update April 26, 2011 Conference Call
A conference call of Local presidents/leaders in the western region was held Thursday, March 10. Participants discussed augmented rosters, caucus training, and more. Another call will be held as we get closer to the national convention the week of August 28-September 2.
Recent Staff Assaults
USP Atwater-April 12
An officer was shaking down an inmate's cell and confiscated pornographic pictures. The inmate punched the officer repeatedly until additional staff arrived. The officer was taken to the local hospital and was reportedly doing well. He sustained a major laceration around his left eye and trauma to his mouth. The institution was placed on lock down status. FCC Tucson, April 15
A staff member was injured after he tried to break up a fight between two inmates. Staff quickly gained control and confined inmates to their cells. The staff member was treated for non life threatening injuries.
As a reminder, please send information on assaults to the CPL secretary at
cpl33sec2@sbcglobal.net
for posting on the web page.
GAO Report--Evaluating the Impact of Protective Equipment Could Help Enhance Officer Safety
All 14 of the state facilities interviewed provide other forms of equipment that the BoP doesn't, such as pepper spray, and nine of the 14 allow for some kind of weapon storage for staff. "BOP management largely reported that officers did not need to carry additional equipment to better protect them."
www.gao.gov/new.items/d11410.pdf
EEOC Report on the Federal Bureau of Prisons
From Michael A. Castelle Sr., CPL Fair Practices Coordinator:
"The EEOC split into teams separate from each other and selected FCC Victorville, California, FCC Butner, North Carolina, FMC Lexington, Kentucky to do face to face interviews with bargaining unit and management staff. Ironically everyone stated similar concerns about blatant retaliation, harassment, intimidation, etc., when they or someone they know participate in the Agency's EEO process." Full report attached.
AFGE Grassroots Conference Calls
On April 14, AFGE President John Gage held another conference call open to all Locals concerning grass roots efforts to resist the attacks by anti-employee legislation. A series of these calls have been held from the outset of the budget negotiations. Participants are on mute during the conference call, and questions are taken at the end. Go online at
www.afge.org
to register for activist updates for future calls and other union actions.
Director Retiring
Harley Lappin announced his retirement recently. There is no word on his replacement. His retirement takes effect May 7. Hopefully his replacement will have a different opinion on personal protective equipment and the amount of funding needed in the bureau to safely operate correctional facilities.
CPL Convention
The 2011 CPL-33 National Convention will be held at the Rio All Suite Hotel and Casino in Las Vegas, NV. The Convention dates are August 28 - Sept 2, 2011. The 28th and 2nd will be considered travel days. Reservations can be booked online at::
http://www.harrahs.com/CheckGroupAvailability.do?propCode=RLV&groupCode=SRAFG11
or call in toll free at 1-888-746-6955 and refer to group code SRAFG11. Room rates are 96.00 a night.
TSO Election in Runoff
Last week AFGE received 8,369 votes, while 8,095 TSA workers voted for NTEU. In addition, 3,111 employees voted not to elect union representation. Dates for the runoff election have not been set, but all parties will have to agree on how to proceed. According to NTEU, voting is likely to begin within the next month and conclude in July. A runoff will be conducted in the coming weeks to determine a winner. The unions are competing for approximately 40,000 employees to be represented.
H.R.1175 Oleoresin Capsicum Spray Pilot Program Act of 2011
We are seeking co-sponsors for the above bill which would provide a pilot program for the limited use of pepper spray in the Federal Bureau of Prisons. Please contact your member of congress and urge them to support this legislation. The attached recent GAO report also supports our position, and should be brought to their attention. The current status is below:

Sponsor:
Rep Cardoza, Dennis A.
[CA-18] (introduced 3/17/2011)
Cosponsors
(7)
Latest Major Action: 3/17/2011 Referred to House committee. Status: Referred to the House Committee on the Judiciary.
COSPONSORS(7), ALPHABETICAL [followed by Cosponsors withdrawn]: (Sort:
by date
)
Rep Bartlett, Roscoe G.
[MD-6] - 3/29/2011
Rep Costa, Jim
[CA-20] - 3/17/2011
Rep Critz, Mark S.
[PA-12] - 3/17/2011
Rep Griffith, H. Morgan
[VA-9] - 4/1/2011
Rep Marino, Tom
[PA-10] - 3/29/2011
Rep Smith, Adam
[WA-9] - 3/29/2011
Rep Thompson, Glenn
[PA-5] - 3/17/2011
_____________________________________________________________________________________
Timothy M. DeBolt
Western Regional Vice President
AFGE/Council of Prison Locals
503.502.4695

deboltwrvp@aol.com

Grievance Report, WRVP
Union Designee on Day Watch/Article 7, Section f.
A regional grievance was filed on March 30, 2010 against the regional director for allowing wardens at Herlong, Terminal Island, and later Phoenix to deny union representatives the ability to assign designated representatives to the day shift. The grievance was denied, and an arbitrator was selected on August 26.
Official Time for Training
A regional grievance was filed on April 8, 2010 against the regional director for allowing wardens and his Employee Services Administrator to deny official time for portions of training that included "Union Structure and Components", "Introductions", and "Retirement Planning". The training events included Lompoc, Sheridan, and the regional caucus. The grievance was initially denied, but on September 1, 2010, during a conference call with McFadden, the Chief of LMR, and Assistant Director Kim White, Ms. White granted the grievance and agreed to have standard agenda items that will be approved in the future without question.
Merit Promotion/Mission Critical Roster
The FLRA decision on the agency appeal was dated March 16, 2009. A more comprehensive list of affected employees was accumulated by the Union after face to face negotiations on January 20 & 21, 2010 in Washington D.C. The agency representative, Docia Casillas retired and there was a delay in reassignment.
I held a conference call on September 1 with the new representative, Chung Hi Yoder. We have agreed to some parameters and are working through the list of employees for payout. It should finish within a couple of months. The issue concerned employees who applied and were selected for merit promotion positions that were later eliminated under the Mission Critical Roster. There are approximately 29 employees that are currently affected. I presented the hearing and Randy Martin was co-chair.
Hazardous Pay Differential for Lock and Security Specialists
A Local hearing in Tucson was won in December, 2008 and is under agency appeal to the FLRA. A national grievance was then filed, and a hearing was held May 19-21, 2010 in Washington D.C. seeking 25% HPD for Lock and Security Specialists who handle, store, or transport explosives. The union's position is that these duties are not contained in the position description, while the agency argues it was included as "equipment". AFGE District 12 Legal Rights attorney Mike Pazder presented the national arbitration as well as the Tucson case, and I was the co-chair on both. Witnesses from Coleman, FDC Miami, Allenwood, SeaTac, and Estill testified. A decision is expected in late September.
Dues Deductions
The union prevailed in a national arbitration proving that the agency didn't process Union dues according to statute and the contract. A hearing was held in December 2009, and Arbitrator David Clark issued the decision dated April 13, 2010. The agency did not appeal. The arbitrator ordered the agency to pay various Locals for erroneous dues deductions and a national posting for their failure to provide data to the Union. The back pay will total approximately $10,000.00. None of the above have occurred, and an unfair labor practice charge will be filed if not paid and posted by the end of September. I presented the hearing, and Bill Gillette was co-chair.
Timothy M. DeBolt
Western Regional Vice President
AFGE/Council of Prison Locals
503.502.4695
deboltwrvp@aol.com
Western Regional Update August, 2010
2010 CPL Convention Relocation (from web site) **If you already have an existing reservation through Harrah's with our OLD block it WILL transfer over to Bally's automatically. Bally's Guest Services will send you a new confirmation number and one will be on file at the Council Office as well. If you reserved a room outside of our block we suggest that you contact the Council Office ASAP with your confirmation code so we can get you switched over. Bally's will honor every room rate and type that was reserved at Harrah's. ** Go to www.cpl33.info for more details, or if you have any questions please contact the Council Office at 870-633-0508.
Western Regional Caucus
The 2011 annual caucus will be held May 9-13 at the Golden Nugget in Las Vegas, NV. This will make the third consecutive year at the GN. More information concerning reservations will be made available as contract details are finalized.
FCI Mendota
The first IF Class took place on July 19, 2010 at USP Atwater. Don Martin, LP Atwater presented the Union's portion of the class. He has already signed up several members, and soon we'll have the ten needed to charter the new Local. A charter number has been obtained from AFGE, which is Local 1237, FCI Mendota. Subsequent classes are scheduled. Thanks Don for taking care of business!
Unicor Closures/Reductions
On July 17, 2010 staff were notified of numerous Unicor closures and reductions nation wide. In the Western Region; the cable factory at Lompoc is closing affecting approximately 14 bargaining unit employees, complete closure at Herlong affecting 12, Victorville is losing 11 positions, and Phoenix and Tucson are losing one position each. The agency has denied the Union's request to bargain, and an unfair labor practice has been filed (attached). The links below are informative and may help answer some of the many questions.
The Employee's Guide to Reduction in Force
Electronic Code of Federal Regulations:
LMR
A national LMR meeting is scheduled for August 25 & 26, 2010 in Washington D.C. The agency denied the Union's request to extend the meeting by one day to decrease the back log of issues.
Master Agreement Negotiations
Bargaining will resume in Washington D.C. the week of August16, 2010 after ratification failed a year ago.
News Article from San Diego
"The New Breed of Federal Inmates"
http://www.voiceofsandiego.org/public_safety/article_b9459aba-9dd7-11df-9cba-001cc4c002e0.html
Regional Grievances
Master Agreement, Article 7,Section f. The Employer and the Union agree to the scheduling, at the local level, of at least one Union representative, designated by the Union, to daytime hours of work. Daytime hours of work is defined as those hours between 6:00 a.m. to 6:00 p.m., Monday through Friday. This will be done in accordance with the Employer's rotation policy,
if applicable, provided that this does not adversely affect the Union's ability to provide representation.
Local Presidents at Herlong, Terminal Island, and Phoenix attempted to exercise their right to designate themselves or a representative to day watch and were denied because the designee was in Correctional Services, and was expected to rotate shifts. When taken to the regional director, he supported the wardens' decisions, as did the Chief of LMR, Joey Meade. To me, this is a perfect example of the frivolity of managements arguments. The highlighted section speaks for itself. This should never have to go to arbitration because the language is clear and unambiguous. The grievance was denied and is pending arbitration.
Article 11, Training Management at the local and regional levels refuse to comply with the contract which allows for reasonable official time for training purposes. Regional Director McFadden refuses to comply with the contract and statute concerning official time and allows his subordinate wardens to do the same. He allows managers to submit union representatives and attendees to unreasonable scrutiny when requesting to attend union training on official time. This grievance arises from RVP steward training for Lompoc, AFGE training for Sheridan, and the RVP request for official time for the regional caucus. The grievance was denied and is pending arbitration.
Policy Selection Grievance(s)
Policy ground rules dictate that locations for meetings alternate between D.C. and in the field. When in the field, it alternates among the regions to choose a location. June was my turn to choose and I chose Honolulu, since we have never had a national meeting there and it would coincide with AFGE District 12 Training. The agency denied the selection, even though our ground rules are clear. National officers have selected Hawaii in the past and it was denied as well, even though they've held LMR and policy in Puerto Rico. Dwayne Person, Policy Chair filed a national grievance, and Mike Meserve, LP at FDC Honolulu is filing for violations at the local level.
On a better note, the policy negotiations for the Employee Health Program Statement was held at MDC Los Angeles the week of June 28, 2010. Warren Mollow, LP at MDC LA was a great host and was also involved in the negotiations. Sean Wilson, LP at FCI Herlong represented the West in my seat as a subject matter expert. Thanks Warren and Sean!
Local 1242, USP Atwater on a Roll
Overtime
In an award dated June 7, 2010, an arbitrator found in favor of Local 1242, USP Atwater, CA in an overtime dispute. The Arbitrator upheld the grievance, awarded back pay, ordered the Agency to work with the Union to resolve the exact amounts owed to each employee, and ordered the Agency to train three Union officials on how to read and understand the overtime roster program to help them monitor it in the future.
Portal (from the decision) The union alleged that the agency violated the FLSA by failing to pay correctional officers for overtime work. The arbitrator found that the officers were required to work more than a de minimis amount of time in excess of their regular shift, performing work that was integral and indispensable to their principal work. The arbitrator determined that the amount of excess time worked was roughly 30 minutes per day, and that the agency neither compensated officers for this time, nor devised an overlapping shift program to relieve officers of pre-shift work. Finding that management was aware since at least 2002 that a portal-to-portal issue existed at the relevant facility, the arbitrator concluded that the agency's violation was willful. He awarded 30 minutes of overtime pay to the correctional officers for a period of three years preceding the grievance, plus interest and attorney's fees.
The agency argued that the award was contrary to the FLSA because the arbitrator applied a three-year, instead of a two-year, limitations period on the back pay award. The agency contended that its conduct was not willful, so the three-year limitations period didn't apply.
The FLRA stated that it will not consider any issue which could have, but was not presented to the arbitrator. Here, the FLRA observed that the agency didn't respond to union arguments that the violation was willful, requiring a three-year limitations period. This failure of the agency to make its case for a two-year limitations period before the arbitrator meant that the FLRA was obligated to dismiss the exception. May 27, 2010

August 2009 Update
Western Region
AFGE/CPL Elections
The Council of Prison Locals annual convention was held August 20-22 at the Nugget Hotel in Reno, Nevada. In addition to other business, delegates voted for officers of the Council as follows: Bryan Lowry, President by acclamation; Roger Payne, Secretary Treasurer; Mike Castelle, Fair Practices Coordinator; Mike Rule, North Central Regional Vice President; Eric Young, Southeast Regional Vice President; Bill Gillette, Northeast Regional Vice President; Dwayne Person, Mid Atlantic Regional Vice President by acclamation; Dale DeShotel , South Central Regional Vice President; and Tim DeBolt, Western Regional Vice President by acclamation.
The AFGE convention was held in Reno August 24-29, 2009. Guest speakers included Richard Trumka, AFL-CIO, and John Barry, Office of Personnel Management. The following AFGE national officers were re-elected: John Gage, National President; J. David Cox, national Secretary-Treasurer; and Augusta Thomas was elected to the position of Fair Practices Coordinator following the death this summer of Andrea Brooks.
Electronic Petition
The Council of Prison Locals, with the assistance and technological expertise of the AFGE Communications Department, developed an electronic petition that sends our message to Attorney General Eric Holder, your Congressperson, and your Senators with a few clicks of the mouse. The petition can be signed electronically by any citizen, not just employees. It's user friendly, and immediate. The response has been good, especially initially. We have about 3,000 electronic petitions signed by so far, but when you consider we have over 20,000 members, it could be a lot better. The link is posted at
www.cpl33.info
and attached below. Please share the link with family, friends, and co-workers everywhere. Here's a quick and easy way to be heard!
VRA Erroneous Appointments
After years of delay, the DOJ is finally sending all of the Bureau of Prisons VRA Variance information to OPM the week of July 20, 2009. It remains to be seen however, if the affected employees will be made whole for loss of seniority, retirement, or grade. This has not exactly been a priority within the Bureau of Prisons or the Justice Department. The law changed in November, 2002, and Grand Prairie was still keying personnel actions as late as December 2008. The variance request has now gone forward to OPM for determination.
Background:
The Jobs for Veterans Act, which revised 38 USC, Veterans' Benefits, was enacted on November 7, 2002, and changed the eligibility criteria under a VR appointment. The changes included:

* the appointment authority changed from Veterans' Readjustment to Veterans' Recruitment
* active duty length of service requirements were removed
* Vietnam-era verbiage was removed and replaced with "qualified covered veterans"

Whereas the VRA veterans had 10 years in which to be appointed under the authority, separated veterans now have 3 years from discharge to be appointed using this authority. Accordingly, the Bureau of Prisons began a review of their files for eligibility under the new criteria on or after November 7, 2002. The BoP review didn't even begin until September, 2003, and was extended to February 24, 2004. There were approximately 30 employees nationwide who didn't meet the new requirements and received new appointments. Many of these employees lost pay and credit for erroneous service time for leave, law enforcement retirement, and time in grade.

______________________________________________________________________________________
HR 1990 / Oleoresin Capsicum Spray Pilot Program Act of 2009
There are now eight co-sponsors to this bill, two from this region. Please continue to lobby for passage, and don't forget to tell them WHY we need this program.
Dennis Cardoza, D-CA Sponsor
Co-Sponsors:
____________________________________________________________________________________
The National Criminal Justice Commission Act of 2009
AFGE and the CPL support this legislation sponsored by Senator Jim Webb which will create a blue ribbon commission to examine the U.S. criminal justice system from top to bottom. Please encourage your representatives to do the same. For more information please click here:
http://webb.senate.gov/email/incardocs/FactSheeti.pdf
_____________________________________________________________________________________
63 FLRA No. 50/Merit Promotion Positions/Mission Critical Roster
As you know, the Union won a national arbitration award where the agency failed to bargain over the Mission Critical Roster, specifically the employees who were removed from positions for which they applied and were selected under Merit Promotion procedures. The arbitrator ruled in favor of the Union, and ordered the agency to provide data requested by the Union prior to the hearing which would identify employees negatively affected, and ordered the agency to bargain over procedures and appropriate arrangements of the MCR. The agency appealed to the FLRA, and on March 16, 2009 lost again. The list of affected employees has been provided. The Union and agency are currently in the process of scheduling negotiations.
Western Regional Caucus 2010
The 2010 caucus will once again be held at the Golden Nugget Casino Hotel, May 3-7 in downtown Las Vegas. Reservations may be made by calling Golden Nugget Reservations after January and identify your affiliation with AFGE/Council of Prison Locals to obtain the negotiated group rate.
______________________________________________________________________
Policy Negotiations-Vests
The Union and management at the national level could not resolve several proposals in the Stab Vest negotiations . Many issues are being submitted as negotiability appeals, and the agreement remains in abeyance until decided by the FLRA. In the meantime, staff are still subjected to the unreasonable and retaliatory procedures placed into effect until negotiations are completed.
The Mail Management Manual is currently being negotiated at the monthly policy sessions. The next meeting is scheduled for the week of September 28-October 2 in Washington D.C.
______________________________________________________________________
CPL Convention 2009
Part Two
Fair Practices Coordinator
Mike Meserve, President at FDC Honolulu, was selected by the presidents for the position of Western Regional Fair Practices Coordinator at the regional meeting held at the CPL convention in Reno, Nevada. He has held the position for the past 6 months during the absence of Andre Davis, who served as the FPC until he was injured at work. Mike does an excellent job working with other leaders and keeping the west informed on fair practice issues.
Office of Workman's Compensation Program (OWCP) Coordinator
Joe Mansour, President at FDC SeaTac, was selected by the local presidents in attendance as the OWCP coordinator for the Western region. Joe has been assisting members with claims and now has the title to go with it. He has also been sending helpful OWCP information to all local presidents in the Council. Because of the need for expertise in the area of federal employee injury claims, the delegates at the convention passed a resolution that will allow the Council to select an experienced individual to address OWCP issues on a nationwide scale.
Awards
The following annual awards were given during the Council of Prison Locals convention:
Most Improved Local was awarded to Local 1102, FDC SeaTac, Joe Mansour, President for their aggressive leadership and increased activity level. Joe and his E-Board have elevated the level of representation to new heights.
Outstanding Leadership was awarded to Mike Meserve, President at FDC Honolulu, HI. Mike doesn't let his isolation keep him from staying on top of union issues and taking on additional duties as the regional Fair Practices Coordinator. Mike also received an organizing award on behalf of Local 1218 for having the highest percentage of members in the region at 92%!
70%Club
The following Locals have a union membership of 70% and above; FDC Honolulu, FDC SeaTac, MCC San Diego, FCC Victorville, USP Lompoc, FCI Herlong, FCI Safford, FCI Terminal Island, FCC Tucson, USP Atwater, FCI Phoenix, MDC Los Angeles, and FCI Dublin. Thirteen out of fifteen locals is outstanding!
AFGE Organizing Award
Local 1242, USP Atwater, Tim Herchenbach, President, received an award at the AFGE convention in Reno for increasing membership by more than 80% in the last three years. Much of their recruitment has come in the last year. The Local leaders there have done an outstanding job in building a union force to be reckoned with.
Fallen Officer Scholarship Fund
Delegates at the CPL convention passed a constitutional proposal to establish an annual scholarship fund for fallen officers in the amount of 1,000.00 per region. The fund will be for children or dependants of union members and the criteria will be posted on the web site in the future. This fund is in addition to the 500.00 Jose Rivera scholarship fund donated by the Correctional Peace Officers Foundation each year for the next two years.
Vest Negotiations
The parties met the weeks of November 17 and December 8 in Washington D.C. Progress is slow. The next session is scheduled for the week of January 5, 2009.
White Paper/Transition Team
The American Federation of Government Employees (AFGE) and the Council of Prison Locals has developed a white paper for the transition team of the incoming Obama administration to help them devise a sound strategy for revitalizing and reforming the Bureau of Prisons (BOP) of the U.S. Department of Justice. A meeting is scheduled for January 7, 2009 with the transition team in Washington D.C.
The AFGE Council of Prison Locals strongly recommends that the new Obama administration:
(1) Increase federal funding of BOP to remedy the serious correctional officer under staffing and prison inmate overcrowding problems that are plaguing BOP institutions. These two problems are resulting in significant increases in prison inmate assaults against correctional officers and other prison inmates.

(2) Adopt needed management policy changes for improving the safety and security of BOP penitentiaries.

(3) Support the Federal Prison Industries (FPI) prison inmate work program.

(4) Continue the existing prohibition against the use of federal funding for a public-private competition under OMB Circular A-76 for work performed by federal employees of BOP and FPUS.

Dues Deduction Grievance
A national grievance was filed on December 17, 2008 concerning the frequent delays by the agency when employees and union representatives submit form 1187 for Union dues deductions. The contract, Article 8, Section e. requires that once an 1187 is received, deductions will begin no later than the second full pay period. If you have information, please contact me.
Hazard Pay for Security Officers
AFGE was successful in winning an arbitration case for Local 3955 on behalf of the Lock & Security Specialists at the U.S. Penitentiary in Tucson , AZ. The Arbitrator awarded these employees back pay of 25% of their salary in hazard differential pay because they had been required to handle, transport and store explosive materials in the armory in a manner that violated the federal regulations for the storage of these explosives. The Arbitrator held that not only was the Federal Bureau of Prisons at Tucson violating federal regulations, but they were also violating the health and safety provisions of the Master Agreement by not lowering the inherent hazards of the prison to the lowest level possible, as is required by the Master Agreement. The Arbitrator also ordered the Agency to bring itself into compliance with the Code of Federal Regulations requirements for the storage of these explosive materials.
NEW: After consultation with the AFGE General Counsel's Office, the Union is preparing to file a national grievance if necessary. Attempts at informal resolution with the agency are under way.

Uniform Update
The agency has extended the deadline for the new uniform until June 1, 2009. The sallyport message is posted below:

Several options to the new uniform are now available for staff. Most importantly, there will be a new fabric option of poly blend material for the shirts and pants. In addition, the seams of the trousers and thread material will be changed for better durability.

Further modifications include a fire-retardant option for the uniform, a material change for the dress blazer, and replacement of the brass buttons on the dress blazer with blue plastic buttons. Any options will be acceptable for the new uniform for the determinable future.

All staff will be required to be in the new uniform on June 1, 2009. The old uniform will no longer be acceptable after May 31, 2009. All vendors currently on the approved vendor list have been informed of these changes and are capable of supplying the options.
Fallen Correctional Officer Honored With Plaque
A special thanks to Barry Fredieu, President, USP Lompoc, and other members of Local 3048 for their hard work in maintaining the memorial grounds and the organization of this event. The ceremony was attended by the Rivera family, members of the Williams family, Tim Herchenbach, President, USP Atwater, Kim Blakely, CPOF, and Bryan Lowry, CPL President.
Santa Barbara New Press
December 20, 2008:
In April 1997, 29-year old Correctional Officer Scott Williams, a Marine veteran and father of two, was stabbed to death by an inmate at the Lompoc Federal Penitentiary. Just 11 years later, 22-year-old Navy veteran and new correctional officer Jose Rivera was stabbed to death by two inmates while working at the United States Penitentiary at Atwater. He was the first correctional officer killed in the line of duty since Mr. Williams' death. In a ceremony this morning at 10, a plaque recognizing Mr. Rivera will be placed alongside the names of other fallen correctional officers at the Scott J. Williams Memorial Park, located near penitentiary staff housing, just west of downtown Lompoc.


_______________________________________________________________________________________
The following is a recent update from Bryan Lowry, CPL President:

To all Local President's:
Master Agreement Ratification
The ratification ballots are being mailed out today, Monday, December 15, 2008. We have placed an instruction letter regarding procedures inside of the packet envelope. Please review this letter concerning time frames for return to address listed on the letter.
There were several unsubstantial section letter references that have been identified in the New Master Agreement which have been corrected since I sent all of you the final version on December 3, 2008. These are only section letter and number changes. These are now accurate references as noted, and were submitted to and corrected by the Agency. I have attached the corrected Master Agreement version above. Again, no substance language was changed, only whats listed as a correction to the previous version. I have also listed these newly noted changes below for your review. The ballot also has a signature section for the Local President or designee, as well as a line for Article references on the back side of the ballot The ballot is only one, two sided page.
1)Article 28 section A, 1 & 2 should be changed from section e to section M (referencing Article 6, section M).

2) Article 6

- section F - change to section E in the text of the section.

- section G - change to section E in the text of the section.

- section H - first sentence, change to under Sections E or F (from F or G)

- section I - change I(1) to "investigations under section E or F" [NOTE: your request is only partially a typo, we did not negotiate to include section F - - however, we will agree to state E or F].

3) Article 11

- change section B to state Appendix D (instead of C)

- change section C (3)(e) to Section E (Article 6 reference)



4) Article 18

- change section D (2)(a) to Appendix C from Appendix B.
FLSA
I was notified by Central Office LMR that all payout information was submitted to Grand Prairie for calculation and payout. The initial problem regarding the payout was due NFC refusing to a commit to a current time frame for processing. After a lengthy DOJ involvement the Agency determined they would initiate the payouts themselves through Grand Prairie. I was told last week that our affected members will begin receiving their payout in Feb. 09.
BOP LANS WARNING BANNER
I have attached an Agency proposed LANS Computer sign on page I was given on Thursday, December 11, 2008. The current and proposed language is both attached for your review. The Agency claims that DOJ has requested that all DOJ components make this language change. We are invoking on this change today in order to protect time frames and confer with the AFGE GCO. We believe based on certain case law that staff still have an expectation to some amount of privacy rights while on duty.
Transition Letter
I have attached the BOP Transition Letter that has recently been submitted to President Elect Obama's White House Transition Team in regards to BOP budget shortfalls, policy and directive change failures, Unicor's importance to our mission, and the deterioration of staff safety and the secure and orderly running of institutions due primarily to a decreased workforce while the population has increased and became more volatile. Most of this information can be used as reference point fact and figure data when you visit and educate your legislators.
Hazardous Duty Pay
Recently Local 3955 Tucson, won an arbitration decision regarding Security Officer's in the BOP who were not receiving 25% hazardous duty pay as other Gov't Agencies pay staff to handle and store exposives and munitions. An AFGE Attorney represented the Local in the case. We have requested the GCO at AFGE to review this in reference to a Council Grievance in lieu of Local Grievance's. We also requested that they provide representation, hopefully the same attorney since he has already researched and represented this matter successfully in front of a third party. Mark Roth stated today he would get back with us quickly on this matter. We will keep you posted.
Incidents and Lockdowns
Please continue to report all assault and lockdown information as it occurs at your institutions. This information has been used as as an effective tool in educating our legislators of serious and dangerous threats our staff are facing that work in our prisons. Several key Senators and Congresspersons have been very receptive to our issues based on these reports.
In Unity!
Bryan Lowry